The Government of Goa and Directorate of Skill Development and Entrepreneurship has launched the Apprenticeship Tanning Under the NAPS (National Apprenticeship Promotion Scheme) and CMAP (Chief Minister's Apprenticeship Policy). Under this Scheme namely Apprenticeship in Goa, the job seekers in Goa will get an opportunity to Learn and Earn. This Yojana is similar to the scheme launched in the State of Madhya Pradesh (MP) which is named as Mukhyamantri Seekho Kamao Yojana.
| | |
| --- | --- |
| Scheme | Apprenticeship Training (CM Apprenticeship Scheme Goa) |
| Type | Goa Govt Schemes for Unemployed/ Freshers |
| State | Goa |
| Applicable | Goa Residents |
| Benefits | ₹13,000 Per month as Stipend to Apprentice |
| Goa Apprenticeship Portal | http://www.apprenticeship.gov.in/ |
CM's Goa Apprenticeship Scheme 2023
As desired by Honorable Chief Minister 10000 Youth to be issued Apprenticeship contracts across all establishments in the State of Goa.
5000 Apprentices to be engaged by Government Establishments and PSUs and 5000 Apprentices to be engaged by Private Sector Establishments.
Goa Government has recently notified Goa Chief Ministers Goa Apprenticeship Scheme for a Government Establishment 2023. To increase the employbility of a Goan Youth having a 15 Years Residence. Minimum Stipend to be payable 5th to 10th Std ₹8000, 12th Std ₹10,000, ITI with NCBT Holder ₹10000, Vocational Technician ₹11,000, Diploma Holders ₹12,000 and Graduate and Degree in any discipline ₹13,000.
Eligibility for CM's Goa Apprenticeship Scheme
Goan Resident with 15 Years Residence Certificate
Employment Card
Education Qualification of minimum 5th STD and maximum no limits
18 Years and above
Benefits of Apprenticeship in Goa
Stipend of upto ₹13,000 per month while training
Fixed 1 Year Contact Apprenticeship Training
Opportunities to work in Government and Private Sector
Earn while learning
Free Training
Documents Required for Goa Apprenticeship
Aadhaar Number
Bank Account Details
Educational Qualification Certificates/ Mark sheets
ID Proof Document PAN Card, Driving License etc.
Candidate Signature JPEG Format
Stipend Offered Under CM's Apprenticeship in Goa
Apprentice will be eligible to receive stipend every month along with learning.
| Qualification | Stipend Eligible |
| --- | --- |
| 5th – 10th | ₹8,000 |
| 12th Pass (HSSC) | ₹10,000 |
| ITI with NCBT Holder | ₹10,000 |
| Vocational Technician | ₹11,000 |
| Diploma Holders | ₹12,000 |
| Graduate and Degree in any discipline | ₹13,000 |
The stipend is determined on the basis of the minimum educational qualification prescribed.
How to Register Goa Apprenticeship Portal
Apprenticeship Registration Goa: To register for Apprenticeship in Goa visit the official Goa Apprenticeship Portal website https://www.apprenticeshipindia.gov.in
The Website https://www.apprenticeshipindia.gov.in/ is the Official Goa Apprenticeship Portal Registration Website, so make sure your verify the URL before proceeding with the registration.
For Goa apprenticeship registration Click on the Login/ Register button to top right corner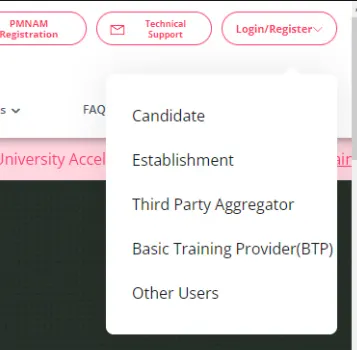 And click on Candidate
From the Candidate Login/ Register page, click on the Register as candidate radio button
Tick mark on if you are an ITI Student, if not then leave it unticked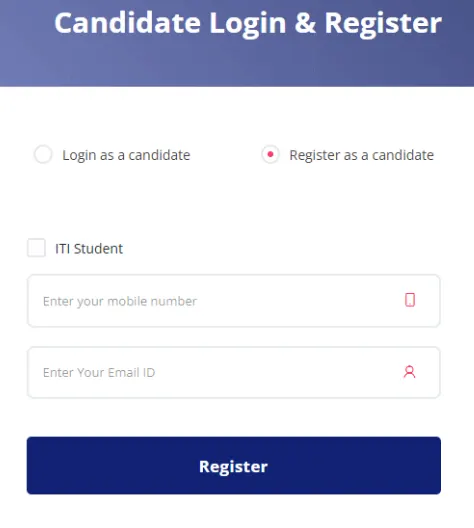 Enter your mobile number, email address and click on the Register button
OTP will be sent on your registered mobile number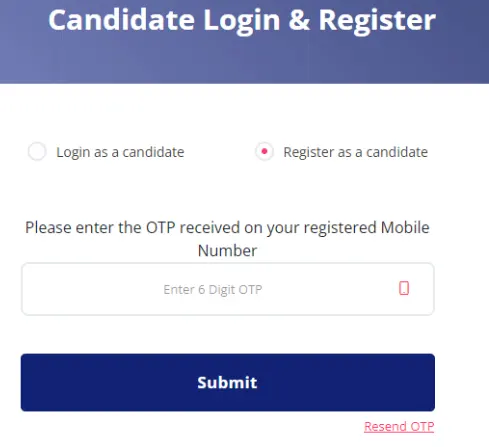 Enter the same in the enter OTP field and click on the submit button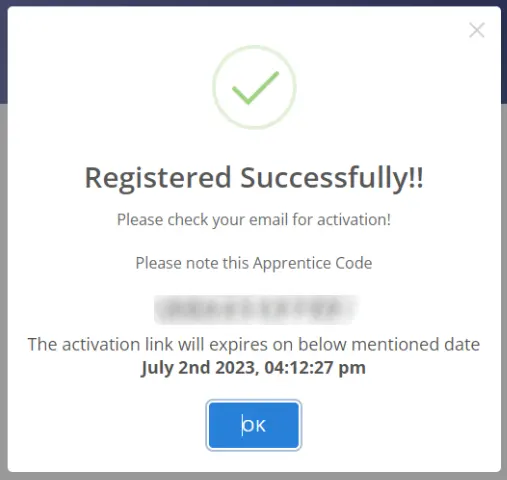 A popup message will appear registered successfully, and a Apprentice code will be generated for your profile
You need to activate your account by clicking on the link sent on your email address, the activation link will be valid for limited duration.

Once activating the account using the link received on email a message will appear user activated successfully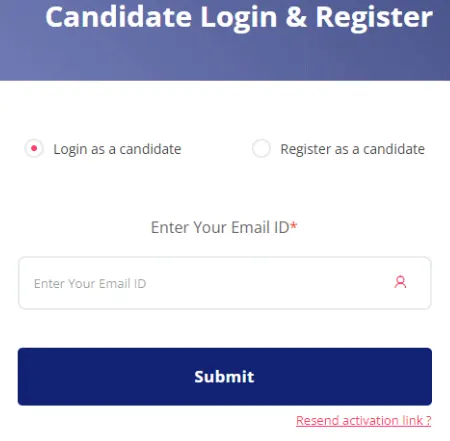 Login as a candidate by entering email address and then enter the received OTP and click on login button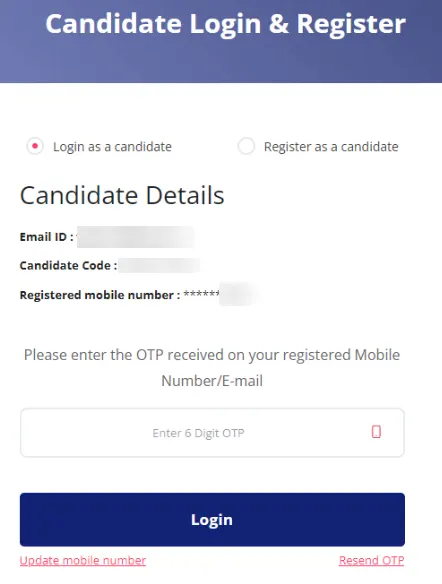 Once logged in, the page will be moved to the candidate dashboard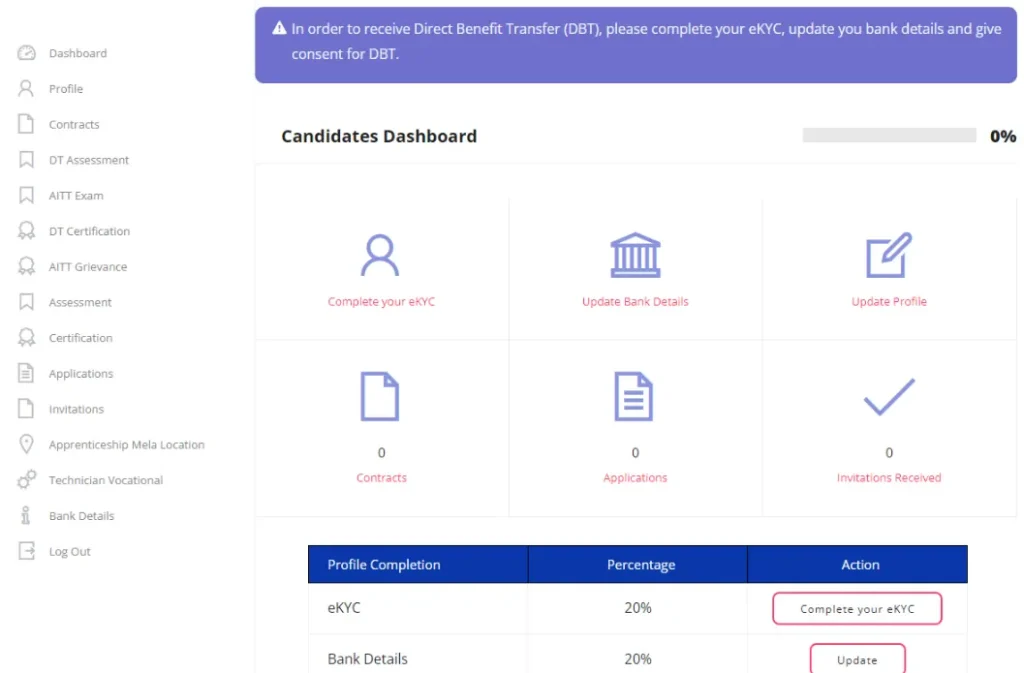 Here you will need to complete your profile, such as eKYC, Bank Details, Candidate Qualification, Fathers Name, Mothers Name, Category and Signature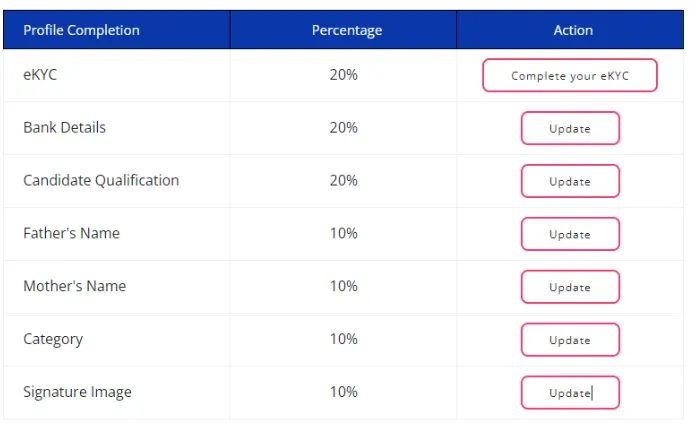 Complete all these candidate profile requirements and then you will be able to apply for the opportunities waiting at several Government and Private Sectors.
How to Apply for Apprenticeship Opportunities in Goa
Once completing the profile requirements, you are set to apply for the Goa Govt Apprenticeship Opportunities in Goa by following the below steps:
From the dashboard click on the Apprenticeship Opportunities
From the search locations field enter Goa and from Qualification field enter your qualification and it will display all the opportunities available
From the results, to apply for the opportunity click on Apply button, you can also view more details about the opportunity by clicking on view button
You can apply multiple opportunities from the listing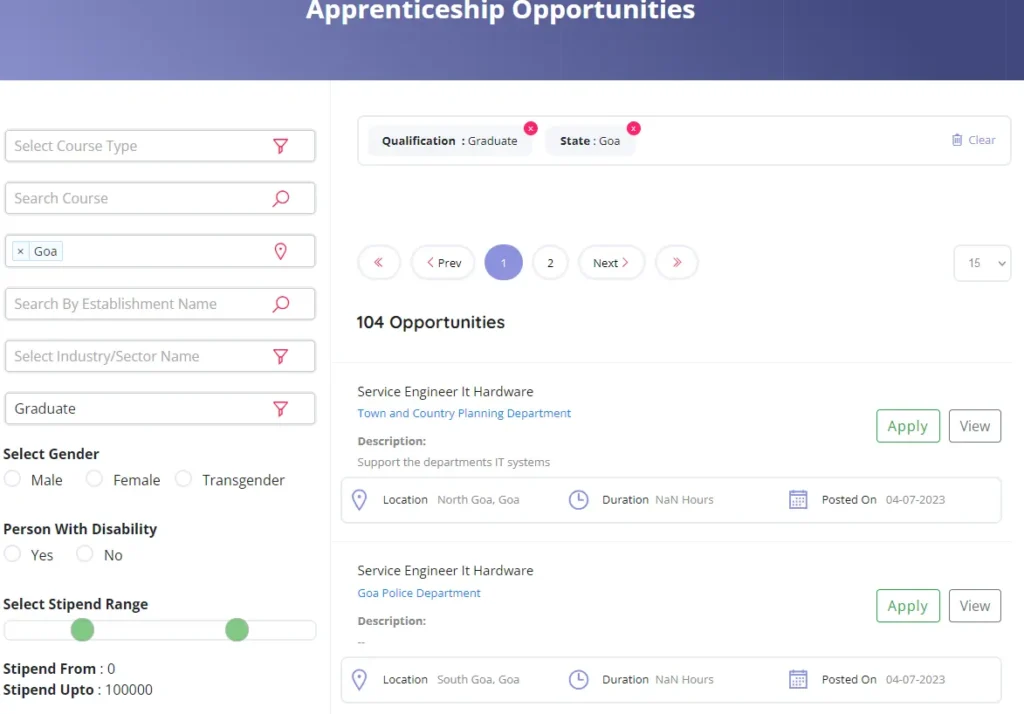 The specific department will send you the contract if you are shortlisted
If you get selected for the post, you will receive a contract request on the portal, if you are interested in joining you need to login and click on Contract section and accept or reject the offer
The offer letter can also be downloaded in PDF format and it will mention your job contract period, stipend issued, etc.
Selection of the candidates will be done by the Government Establishment on first cum first serve basis and Goa Government Apprenticeship training will be considered as a experience in any Government Job.
How to Respond to Contract Received on apprenticeship.gov.in
Once the contract is received by a candidate, they will receive an SMS stating "Dear Candidate, an establishment has sent the apprenticeship contract to you. You have 14 days to accept/ reject the contact. – National Skill Development Corporation" as well as an email with subject "Contract Issued" and content of the email will be like "We are glad to issue a contract for XXXX Opportunity. Candidate must accept the contract within 14 days prior to issue date of the contract. Please find contract in attachment."
To Check if you have received contract from the Department visit the apprenticeship portal Goa
Login to Candidate account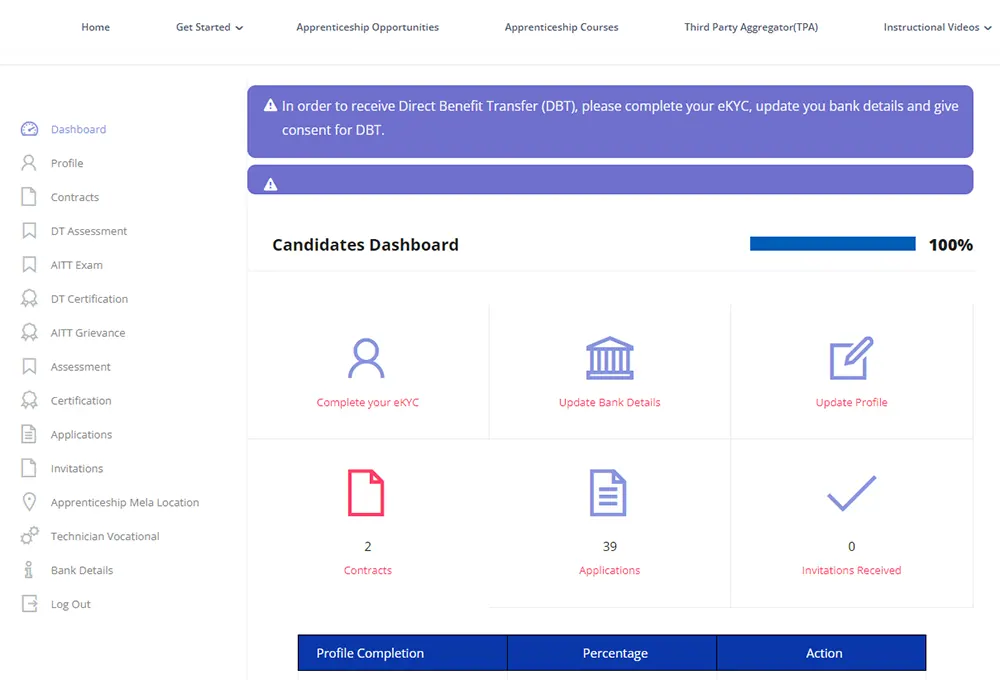 From the Candidate Dashboard page, click on the Contracts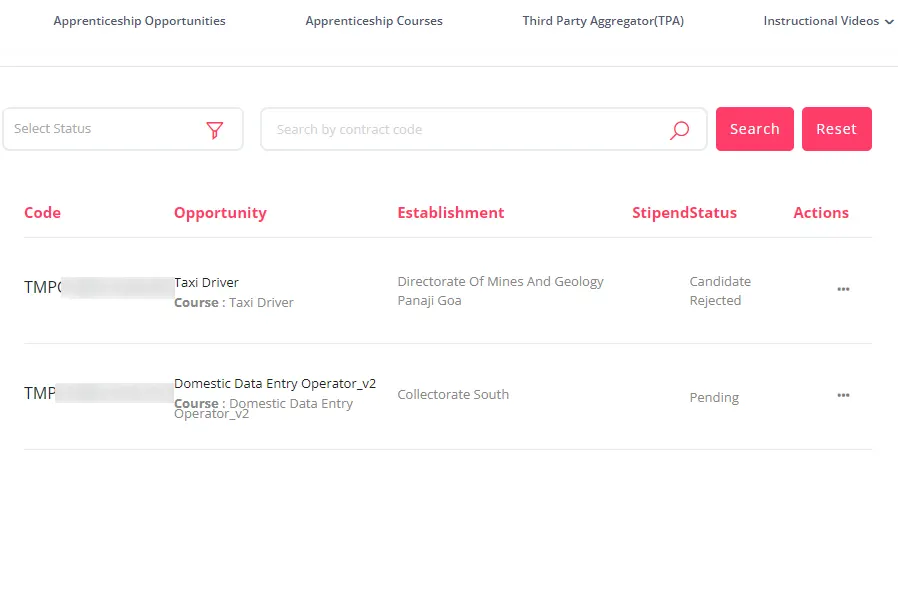 The Contact's page will display all the contract's sent by the department
If you have received contracts from the department then it will display here.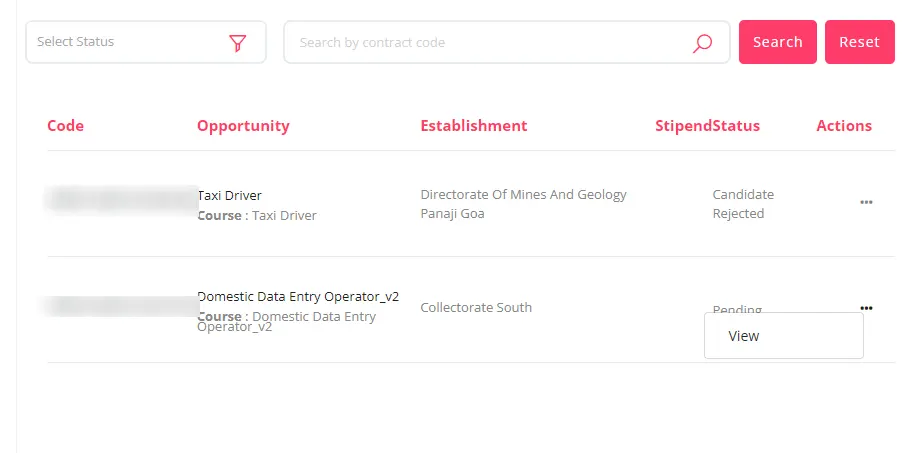 If the contract is received by you to accept or reject the offer, click on the three dot against the contract and click on the view button
On clicking view button, a page will open showing the details of the contract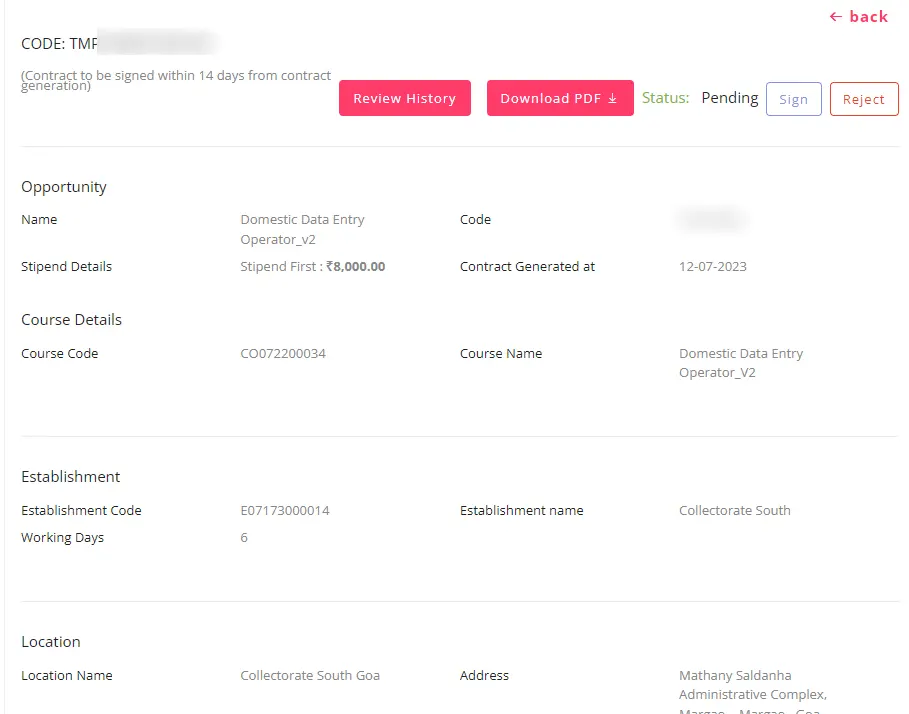 From here you would be able to download the contract details in PDF format by clicking on the Download PDF button
This PDF will contain all details of the Job Role, Stipend Issued, Start and End Date of the Job, and many other details
If you are interested in the received contract and ready to join the apprenticeship Goa training then click on the Sign button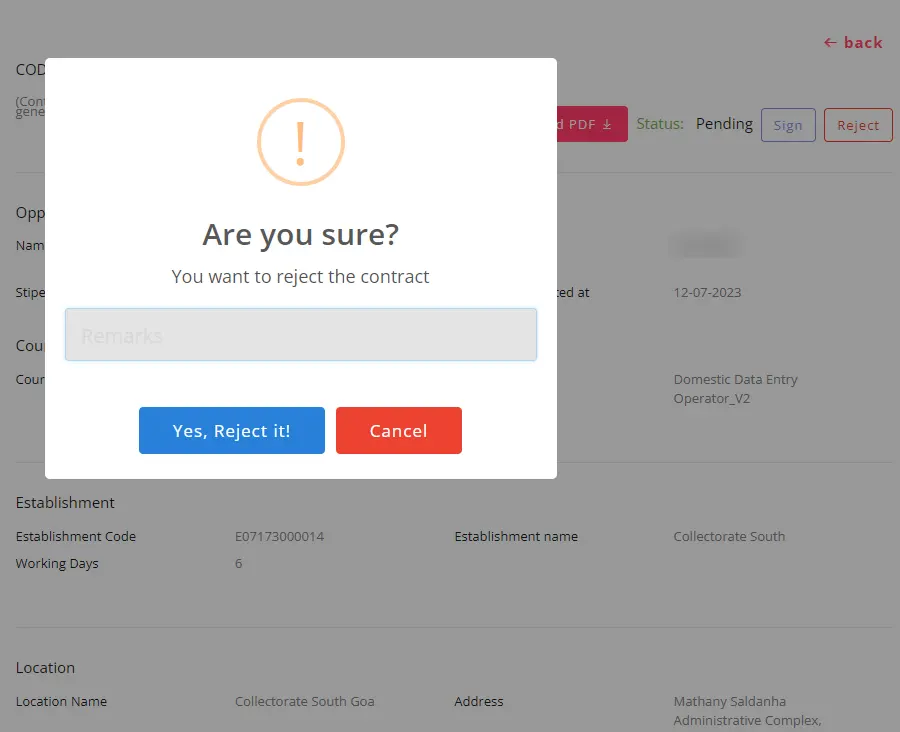 Incase if you are not interested with the received contract then you can reject the contract by clicking on the Reject button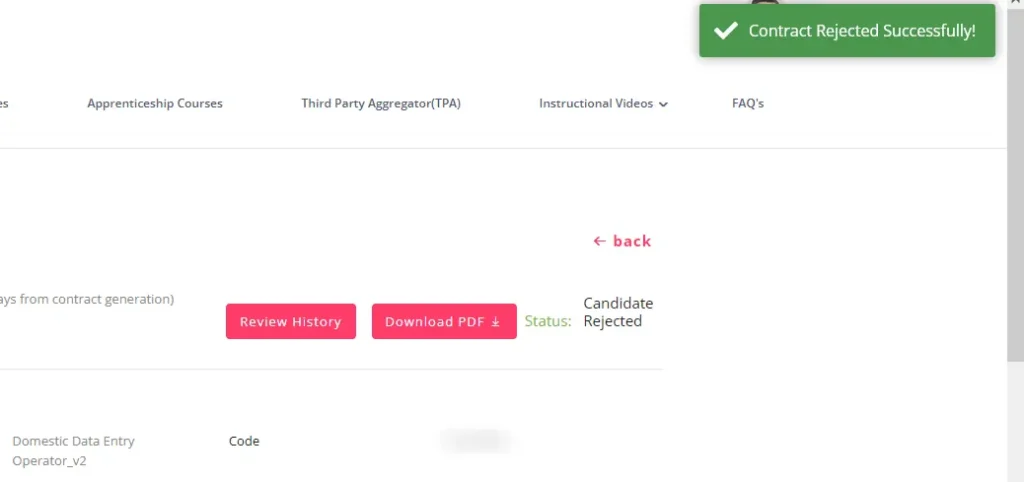 If you select to reject a popup will appear confirming the rejection, here you need to mention the reason and click on the Yes, Reject It button
The Contract will instantly get rejected.
However if you are interested in joining then you should sign in the contract within 14 days of the contract generation.
When does the Goa Apprenticeship 2023 Stipend gets credited?
The stipend for a particular month shall be paid by the tenth day of the following month
Will be there any deductions in Goa apprenticeship Stipend when I take leave?
No deduction shall be made from the stipend for the period during which an apprentice remains on casual leave or medical leave. Stipend shall, however, not be paid for the period for which an Apprentice remains on extraordinary leave.
What is the URL of PM Apprenticeship Portal Goa?
There is no special PM Apprenticeship Portal Goa, the PM Apprenticeship Portal is same for the entire nation which is http://www.apprenticeship.gov.in/ You may belong to any state, if you are interested in applying for Apprenticeship Scheme then you need to register on this portal.
When is the

Goa Apprenticeship 2023 Last Date?
There isn't any last date for Goa Apprenticeship 2023.